Learn to Read Book Packs, Flashcards, Phonics Games and More!
Our range of Reading Eggs book packs, activity books, flashcards and CD-ROMs are perfect for 4 to 7 year olds who are learning to read. The Reading Eggs products cover phonics, spelling, sight words, writing, and much more!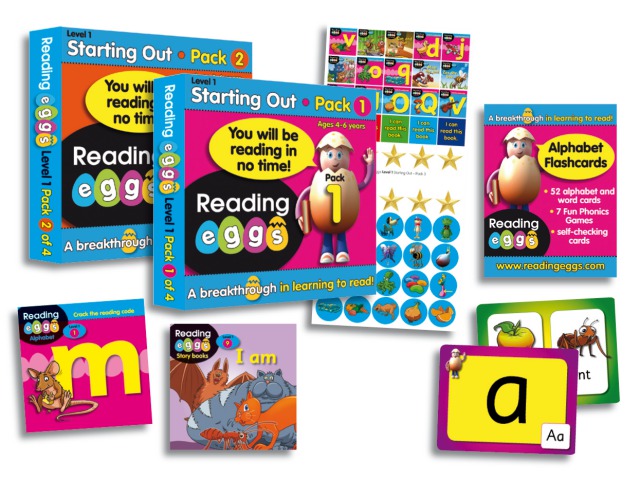 For 3 to 7 year olds who are learning to read.
The Starting Out Level has 40 Reading Eggs online lessons and covers the alphabet, letter sounds and first words. Reading Eggs Book Packs 1-4 and Activity Books 1-4 have been created to reinforce these online lessons. Purchase Here
Beginning to Read is the next level covered by the Reading Eggs lessons 41-80. Reading Eggs Book Packs 5-8 and Activity Books 5-8 reinforce these lessons.
Reading Eggs Book Packs
Each book pack includes 10 books, a mini poster, sticker sheet, parent guide and a FREE 14-day subscription to Reading Eggs. There are 8 Book Packs available.
Reading Eggs CD-
ROM

Packs

CD-ROM with 24 page booklet. Each CD-ROM covers 10 lessons. The booklet includes activities to reinforce reading and writing skills. There are 8 CD-ROMS available.
Reading Eggs Activity Books
An excellent way for children to read and write. The 8 Activity Books reinforce the first 80 lessons of the Reading Eggs program. The activities include a wide range of activities that reinforce reading as well as writing.
Reading Eggs Flashcards
Alphabet Flashcards
52 alphabet and word cards + 7 fun phonics games. All cards are self-checking.
Beginning to Read Flashcards
36 word building cards and 40 high frequency word cards + 5 phonics games. An excellent way to reinforce early phonics skills.