Back to Articles
9 Fun Preschool Games for Learning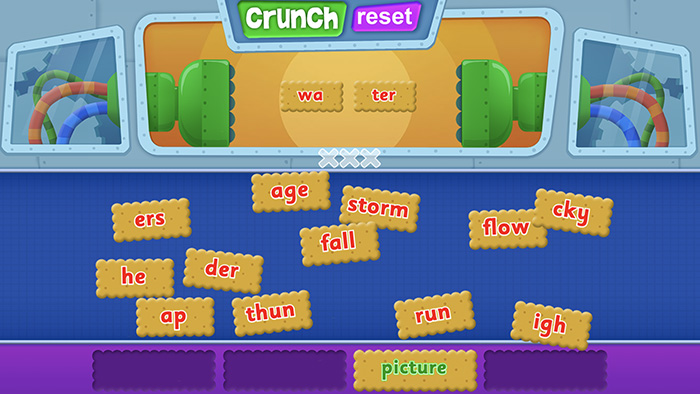 Learning to read is the most important skill your child will develop. It's never too early to start building pre‑reading and phonics skills that set up your preschooler for reading success. The key is to make learning fun, engaging and motivating, that is, turning reading into a game!
A common stumbling block for children learning to read is difficulty understanding phonics, that is, letters and their corresponding sounds. One of the best ways to overcome this problem and prepare young children for reading is to engage them in pre‑literacy activities, such as preschool phonics instruction.
Good phonics instruction helps kids learn, understand and make use of letters and their corresponding sounds in their reading and writing. Preschool phonics activities can start at home. Singing, playing, reading and talking with your child are all ways to help them build great pre‑literacy skills. For example, when speaking with your child, you can ask them to name the beginning letter of a word that comes up in conversation.
Try hundreds of online preschool games for FREE!
Reading Eggs and Mathseeds provide hundreds of online preschool games that build essential reading, phonics and maths skills.
You can find a wide range of preschool phonics games in Reading Eggs. Researchers have found that online phonics games like Reading Eggs are very successful in teaching children to read, especially if they form part of a larger systematic programme of instruction that teaches five key literacy areas: phonemic awareness, phonics, fluency, vocabulary, and text comprehension. Learn more about how Reading Eggs covers these five key areas.
Your free trial of Reading Eggs also includes Mathseeds, filled with hundreds of preschool maths games for kids aged 3⁠–⁠9. Mathseeds teaches the core maths and problem‑solving skills needed for school success, featuring highly structured lessons with fun motivational elements that keep children engaged and keen to learn.
You can also try these nine preschool games to build essential early reading, phonics and maths skills at home:
1. Letter Races
You need a magnetic board (or fridge), magnetic letters and a bit of space. Set up the magnetic board on one side of the room and place the magnetic letters in a bowl on the other side. Call out a sound or a word starting or ending in a particular sound. Then ask your child (with a ready, set, go!) to pick out the correct magnetic letters and run over as fast as they can to stick it on the board.
2. I Spy the Sound
This is a fun way to help preschoolers build phonics skills and phonemic awareness. In this variation of the classic game, 'I Spy', ask your child to spy words that begin with a certain sound, rather than a letter. For example, "I spy with my little eye, something beginning with sss."
3. Matching Rhymes
Find a corkboard or something you can stick pins into. Write down a list of words on one side of a sheet of paper, and on the other side write down words that rhyme with these words, but in a different order. Then stick pins next to each word. Give your child some rubber bands and ask them to match the rhyming words on each side of the page by placing the rubber bands on the pins to connect the rhyming pair.
4. Phonics Hopscotch
You will need a piece of chalk for this game. Draw hopscotch markings on the ground (how many squares and in what shape they are arranged is up to you). In each square draw a letter of the alphabet (you may want to draw both the upper‑ and lower‑case letters in each).
There are a few ways you can play this game – you can call out a letter or combination of letters and ask your child to jump on those letters, and as they do, for them to sound out each letter. Or you can ask your child to jump on the letters in alphabetical order, sounding them out as they go along. You can also roll dice and ask your child to jump to the square that matches the number rolled, counting the squares as they jump and sounding the letter out at the end.
5. Play Shop
Playing shop is a fun way to practise early maths skills and show your child how numbers and counting are a part of everyday life. Gather toys or grocery items and label them with prices written on sticky notes. You can pretend to buy and sell items using play money or creating your own paper money. This will teach your child the concept of paying for items using notes and coins.
6. Don't Drop the Ball
Count the number of times you and your child can throw a ball to each other without dropping it. You can also count the number of times you can tap a balloon before it reaches the ground.
7. Play Heads or Tails
Introduce your child to the concept of chance and probability with a simple game of heads or tails. Probability tells us that for a single coin toss, there are two possible outcomes – heads or tails – so the chance of getting either is one in two, or 50 per cent.
8. Guess the Weight
Use kitchen scales to weigh certain objects around the house, such as a toilet paper roll or a pumpkin. You can also help your child estimate the weight of each object before weighing them.
9. Number Safari
Call out a number and ask your preschooler to find it. You can do this activity while driving (e.g. spotting numbers on signs, houses and number plates) or while shopping. You can also ask them to identify shapes, colours and patterns out in the real world.
Try hundreds of online preschool games for FREE!
Reading Eggs and Mathseeds provide hundreds of online preschool games that build essential reading, phonics and maths skills.
Why other people love the online preschool games in Reading Eggs
"Reading Eggs is an exciting online reading programme that engages students fully and ensures that they have fun while they are learning to read. It is simple to use, caters to all students and makes learning to read FUN. Well done!" – Ann Forbes, Glenmore State School
"I am amazed and how much my 3‑year‑old is learning with Reading Eggs! He can identify all of his letters and knows their sounds. At the rate he's learning, he'll be reading by Kindergarten. He LOVES to "play" it and views it as fun, not work. He had never used a computer before trying Reading Eggs, but it's presented in a way that is intuitive for him, as he can work his way through it on his own. He was even using the mouse like a pro after the first day!" – R. Martz
---