Getting a tutor is often the first thought parents have when their child is falling behind at school, if an important test is coming up or for learning loss over the school break. Online tutoring apps are an effective, highly affordable, convenient way to help kids bridge learning gaps and reach their full potential.
Best of all, there's no time limits or expensive costs. Kids can take as long as they need to reinforce and practise essential skills for reading and maths at their own pace. Traditional tutoring can be incredibly expensive and inconvenient, particularly if you have several children. Not to mention it's yet another thing to fit in with homework, after school sports and activities!
If you haven't thought of using online apps to tutor your child yet, you will after reading this comprehensive list.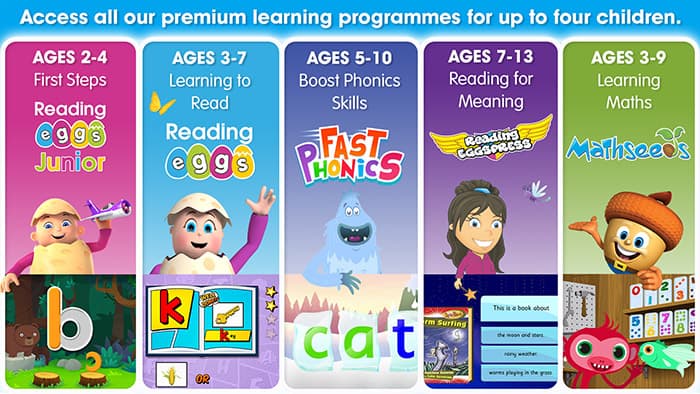 Want the best tutoring app all‑rounder? From key literacy and early maths skills activities, 3000 e‑books, parent updates about kids' progress and motivating rewards, the Reading Eggs app has you covered! Free Trial
Tutoring with Educational Apps: 4 Big Benefits
1. Regular use of educational apps can improve grades and self‑esteem: Online tutoring with well‑designed apps allows kids to learn key concepts at their own pace. Often children can feel embarrassed about not 'getting' a literacy or maths lesson at school. They worry how their classmates will view them, or don't have the confidence to speak up in class. This can lead to long‑term learning issues snowballing and their self‑esteem dropping.
Tutoring with apps solves these issues. Clarification and repetition are necessary to perfect ideas that baffled them in class. Apps used to tutor, while kids are comfortably at home with an iPad in their hand, give them the power to practise skills until they reach a competent level – minus the stress!
2. Tailor tutoring apps to your child's individual needs: Not all children learn in the same way, or at the same rate. Using apps to tutor is a great way to pinpoint issues your child is having. Carefully designed apps like Reading Eggs, show parents the level their child is at, where they need to be and allow them to monitor their progress. Unfortunately, it's easy for kids to miss crucial information in a classroom full of noisy students. If you feel like your child is struggling and could do with some one‑on‑one, no‑pressure assistance, a tutoring app is the best way to go.
3. Convenience – Skip the hassle of traveling to tutoring centres where kids are often taught in groups, and so often don't get that one‑on‑one help. It also prevents tutors come into your family's personal space and disrupting other children doing homework.
4. Cost – Bypass the expense of an in‑person tutor using apps for tutoring. Your child can use Reading Eggs apps as an online tutor for free or ranging up to only $13.99. Reading Eggs apps offer unlimited opportunities to adapt lessons to individual children's needs and styles. Best of all, the main Reading Eggs App can be accessed by up to four children in one family, making it amazing value! Get a free trial today to see the difference it can make to your kids' education.
The Best Tutoring App All‑Rounder for Kids!
The Reading Eggs Learn to Read app is based on the multi‑award winning reading program for kids aged 2⁠–⁠13, proven to increase reading levels in just 15 minutes a day. Guided lessons match your child's ability to target learning gaps they need to work on. Interactive activities, 3000 e‑books and 500+ printable worksheets reinforce the online lessons while exciting rewards motivate children to keep improving. Start your free trial today and download the app FREE on the App Store or Google Play.
Free Trial
Tutor your Child with These Top Literacy Apps
Learning to read is arguably the most important skill for kids, acting as a foundation for succeeding in all school subjects. Reading Eggs offers the perfect tutoring apps to tackle all key literacy aspects. Features can help parents understand where children are struggling and what they need to work on. Kids are also able to take as much time learning and reinforcing skills that they need.
How to use the Reading Eggs app as your kids' online tutor
Did you know that the Reading Eggs App is the perfect literacy and maths online tutor for your child's specific needs? Our Reading Eggs Learn to Read app is the definition of positive screen time, educating kids while they're having fun! You can confidently let your learner jump on the iPad or phone, knowing the Reading Eggs programme has been developed by educational experts, is Kidsafe and works! Get a Free Trial to set your child on the path to success.
Check out Reading Eggs expansive list of other awesome apps to use to tutor your child so they can improve their literacy and maths skills and succeed at school and beyond.
1. READING EGGS LEARN TO READ APP
Reading Eggs Learn to Read app is the perfect all‑rounder educational app for tutoring kids (aged 2⁠–⁠13). Designed by highly experienced educators, it covers all the important literacy and maths skills they need to succeed at school in a way that's easily accessible to different learning styles and abilities. Brimming with hundreds of engaging lessons and activities, it's the best tutor for helping your child practise and reinforce in the comfort of their own home or on the go!
Included in the ultimate educational app are:
Reading Eggs, Mathseeds (for early mathematics skills), Fast Phonics (for in‑depth phonics skills), Reading Eggspress (covers spelling and comprehension) and Reading Eggs Junior (for toddlers and preschoolers). Sign up for a FREE 30‑day trial.
Best of all, hopping on the Reading Eggs Learn to Read app for only 15‑minutes a day of tutoring can get kids reading and improving their maths skills within weeks.
"I have three children, my oldest are 10 and 11 and they both absolutely loved this app. I believe that if you can make learning fun, kids don't even realise they're learning stuff and just enjoy what they are doing. And that is what I feel Reading Eggs does brilliantly. My 5‑year‑old son loves this and had some difficulties in Kindy and with a combined effort from parents, teachers."

– Jae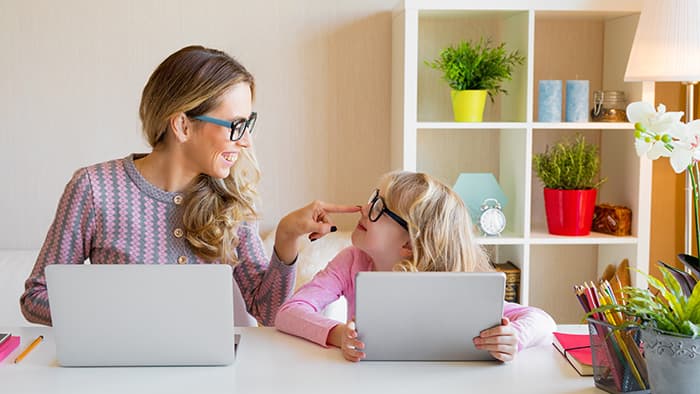 Tutoring apps like the Reading Eggs app make successful learning convenient and affordable. Get a FREE Trial today.
If you'd like to zero in on tutoring for particular literacy skills like spelling, phonics and more, Reading Eggs apps have you covered for that too!
Use as a tutoring app to help kids recognise and learn words that skilled readers should know automatically, or "at sight." It features a fun game that teaches the first 250 sight words that some children find difficult to learn and retain. Once these key words are picked up, your child will find it easier to read fluently. This helps their brain focus, so comprehension and the joy of reading becomes easier!
Phonics is so important for kids to learn to read successfully and tutoring with this educational app's multisensory approach helps reinforces these key skills. Through 20 fun, interactive levels, kids see, hear, read, spell and write words to practise and develop a range of essential early reading skills. Various cool rewards kids will love to keep them motivated as they learn.
The Eggy Alphabet app makes learning kids' ABCs simple, while building on handwriting skills too, in a thorough, educationally sound app. Reinforcing learning all 26 upper‑ and lower‑case letters of the alphabet, this highly interactive app also includes activities to boost phonemic awareness and letter sound skills. Plus, fun rewards!
FREE Tutoring Apps
These following apps can be used for FREE tutoring, giving your child that extra bit of support with their literacy and reading skills. Download today so your child can practise while having fun learning.
Best Tutoring Apps for Maths
We've got dozens of other brilliant educational apps to help improve students' essential maths skills. Brought to you by the same team of experienced educators that created our multi‑award winning educational Reading Eggs and Mathseeds programmes, these numeracy apps are perfect for using as an online tutor.
This app is great for older kids aged 5⁠–⁠10 needing tutoring help with their all‑important multiplication skills. It builds and reinforces multiplication knowledge using five highly interactive games. Each activity has two or three levels to complete so that children can improve and make real progress. The engaging app helps kids hone this key foundation, ensuring future maths success.
These seven individual apps cover maths content that can be used to tutor kids aged 4⁠–⁠12 across all years and levels in primary school. The irresistible combination of engagement and learning will help students understand and enjoy maths, even those who don't think that they are good at it!
Targeting Maths was the first Australian Curriculum maths app for the iPad and combined all that our educational experts know about how children learn maths. Kids can access a huge range of activities that make understanding and reinforcing important maths skills fun, motivating and full of rewards. With the ability to make multiple accounts, each child's individual progress is tracked and recorded so parents can monitor their progress.
Three Cheers!!! Excellent practise app "Great practise app for all maths topics. It has so many different ways to do maths and so many different questions, it's really interesting."

(App Store Review)
Key Features
Training – a range of different maths topics with question sets that cover the main topics for each year

Timed – improves speed and recall of essential maths skills

Multiplayer – up to four students can play against each other in this game of speed and fun

Circus – Students earn tokens to spend on Exploding Mice and Robo‑Juggle games in the circus.
Young children will LOVE learning their numbers from 1⁠–⁠10 with these hands‑on activities, bright animations and motivating rewards! Buddy the Acorn guides your kids, helping them remain on task as they collect 18 new critters and 138 golden acorns!
Eggy Add to 20 helps kids master maths skills with six interactive games, two difficulty levels for each activity and keeps them motivated with bright animations, catchy music and 15 Mashies characters to unlock and earn!
Telling the time can be tricky for kids, but not with some tutoring from the clever, easy to use Eggy Time app. The app develops skills and concepts to assist with telling time using five highly interactive games that make learning to tell time fun. Children will enjoy setting the hands and numbers on a variety of clocks. They get to read and match times, including o'clock times, half hours and quarter hours, as well as exploring time estimation.
Each activity has three levels to complete so children can see their improvement and strive to make real progress in each skill. There are plenty of rewards to unlock and collect for completing each activity.
Use these fun appisodes as an interactive online tutor for preschoolers getting ready for big school or Kindergarten and Year 1 children needing a refresher course to boost their letters and sounds knowledge.
There are four FREE awesome Eggsperts apps that visual learners (and kids in general) will love watching, interacting and playing along with. Rather than just viewing passively, children get to enjoy some positive screen time, with appisodes and fun educational games thrown in!
Why not download all these FREE fun, educational apps to keep your kids happy and learning on the go?
So, as you can see, online tutoring with apps is the best way to give struggling kids a helping hand. There are so many positives! Used as a tutoring tool, our educational apps are perfect for learning anywhere and teaching kids up to age 13 to revise independently. Being very interactive and easy to use they keep kids motivated and on‑task. Using our educational apps for tutoring is the perfect solution to keep your child up to date with their learning and confident in the most effective, cost‑effective way.
Reading Eggs App Reviews
"Working in education I can see the value and relevance in this App. More than just skills and drills, Targeting Maths is stand out in content, with a strong focus on problem solving. Questions are posed in a variety of ways which is essential. The bank of mathematical terms in each strand is worth the cost alone, exposing children to the language of maths. Above all it is engaging so children will be keen to reinforce work covered in their school programme. Happy customer!"

– iTunes User Review
"I had a trial for two weeks and I found my son starts to read and can follow the clear instructions. I think it is an excellent program for home‑schooling. You can start learning at any time at home, save a lot of time and money to find a tutor. 5 stars learning programme for kids and would recommend to his friends in Kindy."

– Michelle A.